Amazon Plans to Lay Off 18,000
Plus, T-Mobile's customer growth.
Today is Thursday, January 5, 2023.
New to this newsletter? Sign up here.
---
Early Bird Referral Program

1 Referral





Investing Guide With 12 Stock Picks

3 Referrals





Exclusive Community

7 Referrals





Pick a Stock Topic for a Newsletter

12 Referrals





Coffee Mug

20 Referrals





T-Shirt

40 Referrals





$100 Amazon Gift Card

Share your unique link, earn rewards

Powered by Viral Loops
---
Amazon Plans to Lay Off 18,000

Technology giant Amazon (Nasdaq: AMZN) will lay off more workers than what was originally reported.
Details: Amazon plans to eliminate over 18,000 roles, CEO Andy Jassy said on Wednesday night. A previous report from November suggested that the layoffs would only total 10,000 employees. The layoffs will start on January 18. The majority of role eliminations are in Amazon Stores and PXT organizations.
Background: Technology companies have turned to layoffs in recent months to deal with economic fears. On Wednesday, Salesforce (NYSE: CRM) became the latest tech company to join the layoffs with a plan to cut 10% of its staff. Amazon's 18,000 layoffs would be the highest tech layoff all year (so far).
Stock Price: Amazon's stock is down 48% in the last 12 months and down 6% in the last 30 days.
Final Thoughts: Amazon also took out an $8 billion loan this week. It seems that the current financial situation for Amazon is not good.
---
Notables

Notable Earnings Today: Walgreens Boots Alliance (Nasdaq: WBA), Aehr Test Systems (Nasdaq: AEHR), Lamb Weston Holdings (NYSE: LW), Duck Creek Technologies (Nasdaq: DCT), Conagra Brands (NYSE: CAG), Kura Sushi USA (Nasdaq: KRUS), Constellation Brands (NYSE: STZ), Franklin Convey (NYSE: FC), The Simply Good Foods Company (Nasdaq: SMPL), Neogen (Nasdaq: NEOG), RPM International (NYSE: RPM), Helen of Troy (Nasdaq: HELE), AngioDynamics (Nasdaq: ANGO), MSC Industrial Supply (NYSE: MSM), Lindsay (NYSE: LNN), Schnitzer Steel (Nasdaq: SCHN).
Notable IPOs Today: N/A.
Notable Equity Crowdfunding Campaigns Ending Today: Addiction Cure Therapeutic Sciences (Netcapital), TENNTS (StartEngine).
Notable Economic Events Today: ADP Nonfarm Employment Change (8:15 a.m. ET), Jobless Claims (8:30 a.m. ET), Trade Balance (8:30 a.m. ET),  Services PMI (9:45 a.m. ET), Crude Oil Inventories (11:00 a.m. ET).
---
T-Mobile's Record Customer Growth

T-Mobile (Nasdaq: TMUS) reported preliminary results on Wednesday, sending shares of the wireless network up 1.46% in after-hours trading.
Growth: The results show record postpaid and broadband growth for the full year. Postpaid phone net customer additions totaled 927,000. This was the best in the industry and the highest since T-Mobile's merger with Sprint. High-speed internet net customer additions totaled 524,000. Both were better than what analysts had predicted.
Quote: "Our momentum won't stop as we continue to translate our long-established 5G lead into overall network leadership and execute on our unique growth strategy." - Mike Sievert, CEO of T-Mobile.
Stock Price: Shares of T-Mobile are up 21% in the last 12 months, but are down about 7% in the last 30 days.
Final Thoughts: With new 5G airwaves, T-Mobile looks favorable to some investors. The company reports full earnings on February 2.
---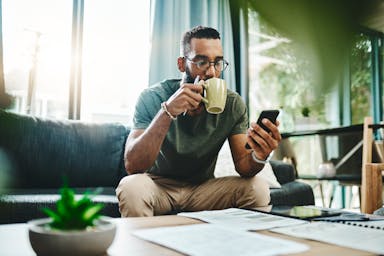 Connect to clean energy in two mins (Sponsored)
Whether you rent or own your home, Arcadia can help you power it with 100% clean energy for just $5/month — no installations, long-term commitments, or changes to your current electricity provider.
When you enter your zip code and utility company, Arcadia can check if there is a community solar farm near you. Connect to it for no extra cost and receive guaranteed monthly savings on your power bill.
Sign up to become an Arcadia member today, and get a welcome gift of $10 toward your power bill. Get Your $10!
---
Crypto Prices See Big Boost

The prices for most cryptocurrencies jumped on Wednesday thanks to some positive economic data suggesting that inflation is declining, which means that the U.S. Federal Reserve might curb future interest rates.
Final Thoughts: Wednesday's surge included slight increases for Ethereum and Dogecoin.
---
Trends to Watch

Driving the Sales: GM is the top car seller in America, retaking the title from Toyota (CNN)
Demanding: Mortgage demand plunges 13.2% to end 2022, as interest rates head higher again (CNBC)
Staying the Course: Fed Affirms Inflation Resolve, Pushes Back Against Rate-Cut Bets (Bloomberg)
Going Public: J&J's consumer health unit Kenvue files for IPO, moving closer to spin-off (Reuters)
Welcome: GE HealthCare begins trading as spin-off heralds shift to corporate streamlining (Yahoo! Finance)
---
Thank you for reading!
Forward to a friend and tell them to sign up here.
Be social: Like our Facebook page and follow us on Twitter.
Want more investing tips? Listen to the podcast.
Show Your Support: Buy Me a Coffee.
Questions or comments? Hit reply to reach out.
Join the newsletter to receive the latest updates in your inbox.